Strides of Hope Walkathon to Benefit A Hope Center
When: Saturday, August 21st, 2021, 9:00 am
Where: Morsches Park in Columbia City, Indiana
What:  Join us and walk to support mothers, fathers, and babies.
Registration begins on June 1st.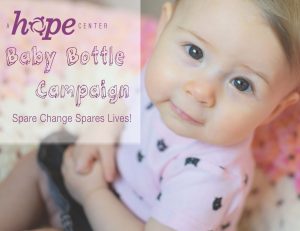 Baby Bottle Fundraiser
When: any time of the year that works with your group's schedule.
Where: Your church, small group, youth group, private school, community group, etc.
What: Your change can change lives. This is a great way to get the whole church or group involved in ministry together, and it's easy to do!
A Hope Center's Annual Fundraising Banquet
When: Tuesday, April 26th, 2022 @ 6:30 pm
Where: Allen County War Memorial Coliseum
What: Join us for an evening of ministry updates, fellowship, and an inspirational message from our guest speaker.